Retro Candy at Kernel's Gourmet Popcorn & More – Geneva and Naperville
Satisfy your sweet tooth with our selection of Retro Candy: we stock assorted Jolly Ranchers, Salt Water Taffy, Gummi Bears, Gummi Worms, Chewy Sprees, Strawberry Licorice, Black Licorice, Good N' Plenty, Fruit Slices, Starburst, Jelly Beans, Gummi Peach Rings, M & Ms, Mike & Ike, Mini Gumballs, Rainbow Licorice Laces, Red Strawberry Laces, Sour Assorted Balls, Sour Cherry Balls, Swedish Fish, Twizzler Cherry Bites and many varieties of Dark Chocolate and Milk Chocolate-covered Cashews, Pecans, Almonds and more!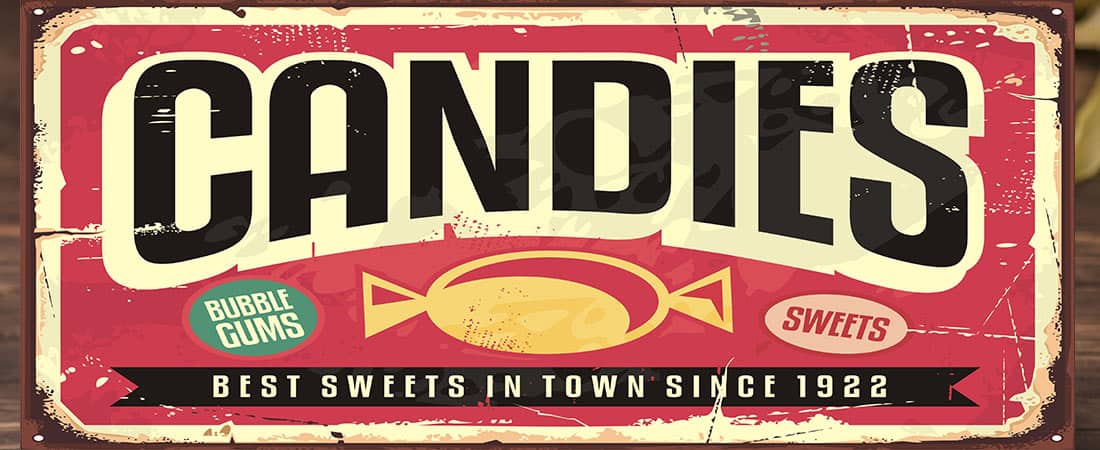 Retro Candy – The Colorful Origins of Jelly Beans
The beginnings of the delicious jelly bean and popular Retro Candy are a little mysterious. Some candy historians speculate that jelly beans are a combo of a chewy Middle Eastern treat known as Turkish Delight that's been around for many thousands of years and Jordan Almonds, a hard candy product of the 1600s.
An early recorded mention of jelly beans is related to a Boston candy maker who encouraged people to send the jelly beans he made to soldiers who were battling in the Civil War. Jelly beans eventually became a widely popular treat in the USA in the early 1900s. They were often sold with penny candies and by the 1930s the connection between jelly beans and the Easter holiday was established – perhaps partly because jelly beans are egg shaped.
Jelly beans have a played a role in history too – they became even more well-known in the 1980s when President Ronald Reagan would enjoy them and share them with his guests. (He even ate jelly beans as a way to stop smoking too.) Jelly Belly, the manufacturer of the gourmet beans, developed a blueberry flavored bean specifically for the president.
At Kernel's, we stock a great selection of jelly beans – drop by our store and stock up for National Jelly Bean Day on April 22!
More Retro Candy History – Swedish Fish
Swedish Fish were first made by a candy company based in (where else) Sweden named Malaco. Swedish Fish were initially viewed as a "wine gum" even though they do not actually contain wine. Because the seafood industry is so active in Sweden, it's a fair guess that's why the company chose to shape their candies like fish. Malaco brought Swedish Fish to the USA in the 1950s and the candy has remained a popular delight ever since.
Retro Candy at Kernel's – Gummi Bears
The year was 1920 when a worker at a confectionery in Germany named Hans Riegel wanted to strike out on his own and start a business. Equipped with not much more than a few bags of sugar, a kettle, a large oven and a rolling pin, Hans started making flavored hard candies in his own kitchen. He decides to call his new business Haribo.
After a few years of marginal profits, Hans understands that he needed a fresh take on his candy products to remain competitive. He noticed that softer gelatin-based candy was popular at the time in Germany. Consequently, Hans chose to develop a softer, fruity-flavored chew shaped like a dancing bear. At first, the original Gummi Bears were longer than the version that is well known these days.
By the 1930s, the candy-making operation had grown into a busy factory with over 100 employees.
By just about a decade later, Haribo had expanded again to over 400 employees producing tons of candy every day.
Kernel's Gourmet Popcorn & More carries a wide selection of Retro Candy – come and taste the difference at 316 West State Street in Geneva or at 2555 West 75th Street, Suite 109 in Naperville.