Gourmet Candy – Satisfy Your Sweet Tooth at Kernel's Gourmet Popcorn & More – 630-232-7151 – FREE shipping on orders of $99 and up – Visit Our Store at 316 West State Street in Geneva or at 2555 West 75th Street, Suite 109 in Naperville.
Welcome to Kernel's! We stock an amazing selection of Gourmet Candy including: Dark Chocolate Almonds, Dark Chocolate Amaretto Pecans, Dark Double Chocolate Cashews, Dark Chocolate Double Dipped Peanuts, Dark Chocolate Espresso Beans, Dark Chocolate Jumbo Cashews, Dark Chocolate Pecans, Finnska Black Licorice, Dark Chocolate Triple Dipped Malt Balls, Deluxe Mixed Nuts Roasted & Salted, Finnska Strawberry Licorice, Fish Bowl Mix, Garlic Sesame Sticks, Good N' Plenty, Gummi Peach Rings, Gummi Worms, Honey Sesame Sticks, Milk Chocolate Amaretto Pecans, Milk Chocolate Bridge Mix, Milk Chocolate Covered Pecans, Milk Chocolate Dried Cranberries, Milk Chocolate Gummi Bears, Milk Chocolate Red Velvet Cherries, Mini Assorted Fruit Slices, Sour Cherry Balls, Semi Sweet Nonpareils, Sour Patch Cherries, Sour Patch Quattro Mini Belts, Swedish Fish, Twizzler Cherry Bites, the Very Berry Antioxidant Mix and more!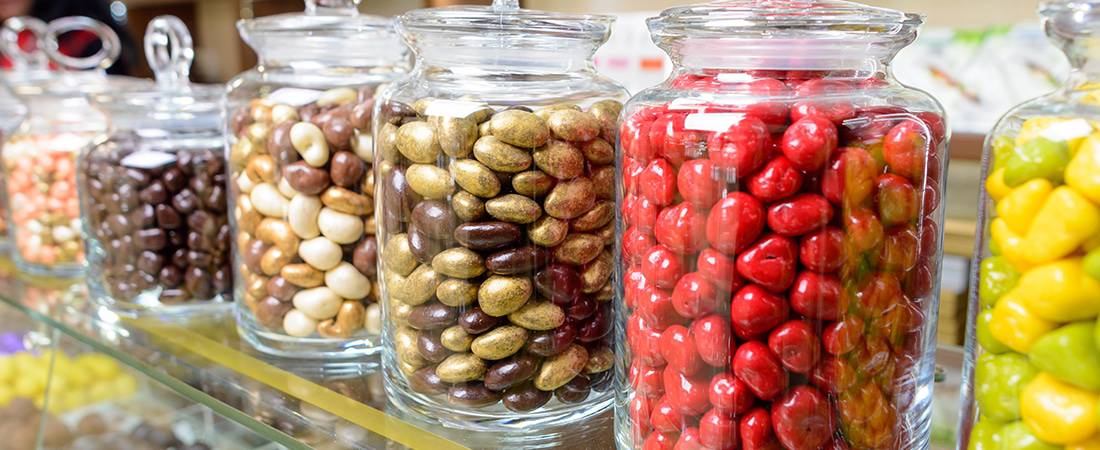 Did You Know? Besides being simply delicious, dark chocolate is a Gourmet Candy that has a number of health benefits!
Industry research has shown that chocolate, particularly dark chocolate with its high content of antioxidants, offers a number of health benefits. A main reason for this is that dark chocolate contains flavonoids, which occurs naturally in plants. This gives dark chocolate the ability to combat against free radicals. Free radicals are basically compounds that are created by the body's cellular functions to fight against toxins that people are exposed to on a regular basis. Antioxidants are simply the natural compounds that help neutralize harmful free radicals and protects the body from their effects.
Antioxidants are typically minerals, vitamins and phytochemicals — which are naturally beneficial plant compounds. Two kinds of antioxidants that are found in dark chocolate are polyphenols and flavonoids. Dark chocolate's cocoa content has been shown to provide these in higher amounts than even tea or wine.
Better Heart Health. Flavanols are the primary type of flavonoid contained in dark chocolate. Studies have revealed that flavanols offer benefits toward heart health by lowering blood pressure and boosting blood circulation to the heart and the brain. Dark chocolate's flavanols can even help to make blood platelets less prone to sticking together, which limits the hazard of blood clotting and strokes.
A few more fast facts about everyone's favorite Gourmet Candy:
*Dark chocolate contains more cacao – which are the beans chocolate is manufactured from – and lower amounts of sugar when compared to other chocolates.
*Dark chocolate is a Gourmet Candy that helps to widen arteries and promote healthy circulation that can serve to prevent plaque buildup and blockage.
*Consuming a moderate amount of dark chocolate each day helps lower risk of heart disease.
*Flavonoids contained in cocoa-related products provide anti-clotting and anti-inflammatory
effects that help lower the risk of diabetes by enhancing insulin sensitivities.
*The wonderful scent of chocolate actually boosts theta brain waves that help the body relax.
Order Gourmet Candy from Kernel's today – Place Your Order Online Or Call Us At: 630-232-7151.
Kernel's Gourmet Popcorn & More is a family-owned store. We have always placed top priority on excellent customer care. As a big part of that commitment, we make ourselves easy to get in touch with! Just give us a call with any questions you may have about our fine popcorn and Gourmet Candy product lines. There won't be any waiting on hold or the need to leave us a message on voicemail. Our experienced staff is ready with answers and to take your Gourmet Candy order promptly.